On 24, 25th of April 2016, DermVisage returned to the annual ESI Conference.  The Esthétique Spa International at the Metro Toronto Convention Centre is a phenomenal event that offers attendees a good educational spa show experience at an affordable price. Tickets are just $60 each and spa workers can get discounts on admission, hotels and service packages at the show.  Just about every visitor is offered some form of on-site pampering at every booth on the trade show floor. This often includes products; a great many ladies showed up with roller bags to wheel away all their 'beauty booty'.
This is the picture the DermVisage team tweeted at the start of the show on Sunday at 11am. We were all so fresh and full of energy…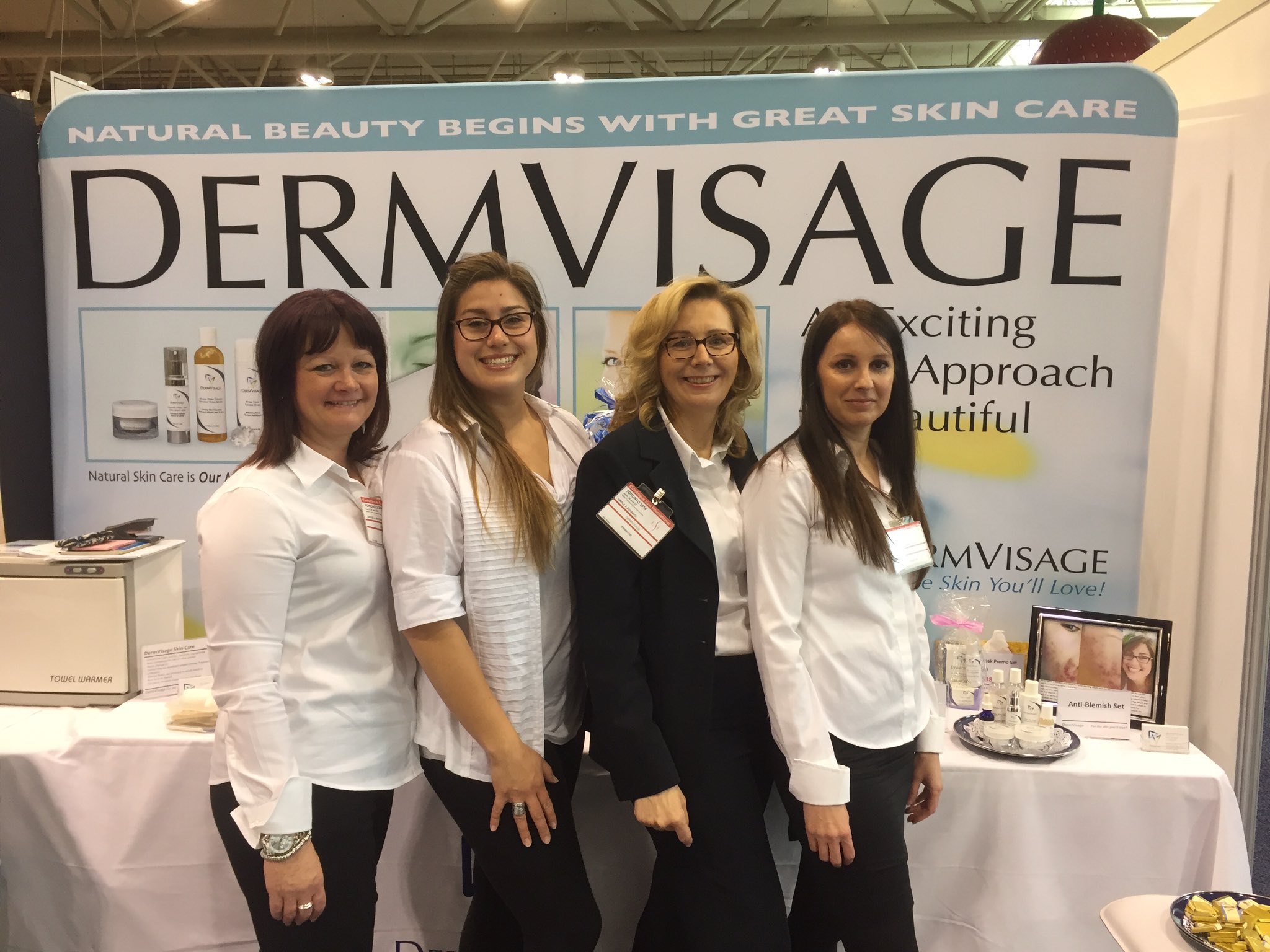 Esthétique Spa International is an amazing attraction, open to the public, that exhibits the latest technological advances, new products and procedures for beauty professionals. There are over seventy-five exhibitors' booths well staffed with experts offering information and invaluable insights to help spa owners maximize profit while providing the very best service for their clientele.
DermVisage was very fortunate to have Lonnie Wallace the founder of Emage Medical Imaging Systems on hand with a connecting booth right beside ours to discuss the Image Pro skin analysis devices. This is the same equipment we trust to investigate consumers' skin conditions to determine the correct creams and lotions to apply for best results. DermVisage is the Canadian distributor for Imaging system and the 'Triple sense' handheld device.
Emage brings the most advanced skin imaging technology to North American aesthetic practices. With over twenty years experience in medical technology, their extensive product development and support services give spa owners the confidence they need to really excel at the science of effective skin imaging.  Their high quality skin imaging products, and one-on-one service, and web-based or on-site training including customized marketing programs that are designed to ensure business owners' satisfaction from start to finish.

The Image Pro  skin imaging systems quickly analyzes skin health. The systems combines the best of photography and skin analysis technology into an easy-to-use tool for the modern aesthetic professional.  Having Lonnie Wallace himself on hand to discuss the medical devices was invaluable for trade show attendees thinking of taking their spa or skin care clinic to the next level.
DermVisage Lectured On Computerized Skin Care
At 1:30pm on Sunday, Ursula Eshragi our CEO gave a lecture to a live audience of spa and salon workers about the efficacy of using skin analysis devices to find the best skin care regime, without guessing, based on scientific analysis of skin type, condition, sun damage, fine lines and wrinkles, pore health ( bacteria), and. roughness ( dead skin cells ).
Ursula spoke in presentation room 202-B and the audience gathered there because they wanted to know, "What is Computerized Skin Analysis?"  The seminar was approx 50 minutes long and featured Ursula storytelling about the origins of the DermVisage brand, and the scientific approach to skin care that she adopted after treating her son's eczema. "How do women select their skin care products?' she asked the audience. And most people agreed it was a direct result of product marketing with little or no notion of their individual needs. This allows spas and salons a chance to offer a more customized approach to skin care.
After the lecture the booth upstairs really was swamped with interested aesthetics business owners loo0king for more information. It was really exciting.
ESI Conference is designed to show spa and salon owners new ways to diversify and improve their service offers, thereby ensuring continued growth. This is where people can best see future trends and find out how their business can reach its full potential. ESI is the only trade show in the spa and salon industry that offers such a wide selection of products, free on-site treatments and world-class conferences and workshops.